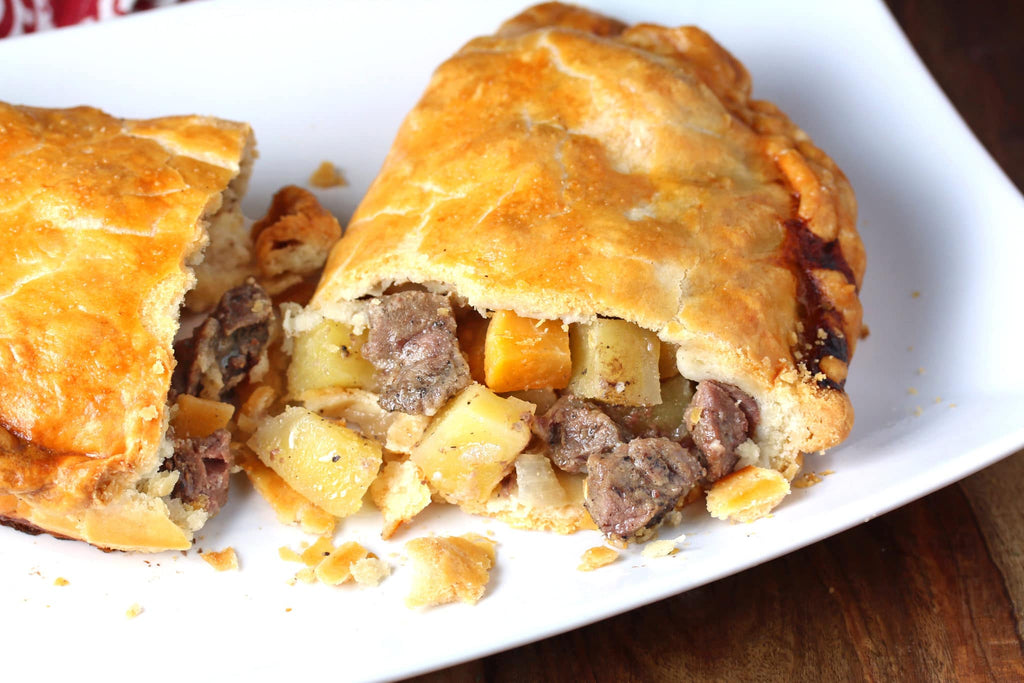 We all love a good ol' Cornish pasty, and we can all agree that certain ingredients shouldn't make their way into a traditional pasty, like carrots! But where can you find the best Cornish pasty that will just make you want to pick one up every day? We've scoured the county high and low for our favourites, it's a hard job, but someone had to do it!And in no particular order…
Philps - Hayle , Praze - an - Beeble and Marazion
One of our personal favourites and growing up in Hayle it's hard not to fall in love with a Philps. They even send pasties by post now that they have become such a demand across the border. You can get a beef pasty in flaky or shortcrust pastry which is a winner whichever camp you're in and they make an awesome breakfast pasty if you're awake early enough to catch these high-demand beauties. Philps have now opened new pasty shops in St. Ives and Camborne, so there's no excuse…
The Cornish Bakery - St Ives 
From its routes in Mevagissey this bakery now offers pasties on the other side of the border, but that just because they are so darn good! A personal favourite of ours is the Thai Chicken, but as winners at the World Pasty Championships 2013, why not go for a traditional!
You can find them in Fowey, Falmouth, East Looe, Newquay, Padstow and Tintagel so head out and give them a try.
Ann's – The Lizard
Famously cooked by Ann's own recipe these pasties are made with love all the way down on The Lizard. The pasties are jam packed full of yummy ingredients, but the only slight draw back is the crimping.
You have to be a fan of the top crimp otherwise these pasties aren't for you, depends how much offence you take to the location of the crimp. You can pick up an Ann's down Lizard, Helston, Heartlands, Picnic Cornwall and The Allotment Deli.
The Cornish Oven Helston
One of our current favourite pasties stops is The Cornish Oven. You can find them in Camborne, Pool, Illogan and Penzance, although we always go to the Helston one! With pasties available in flaky or shortcrust pastry it's a winner to keep everyone happy - our suggestion if you want something different to traditional steak is their flaky cheese, it's delicious. We often pick ours up and take them down to the beaches to enjoy with a dose of fresh Cornish sea air.
Hampsons - Hayle
This wonderful butchers has been making pasties with the best quality meats for a long time. They have two shops in Hayle and you can pop in at anytime for a hot or cold pasty, and if you've got a big enough appetite you could attempt a large.
They are also willing to make personalised pasties so if you fancy a lamb one instead then pop in for a chat and they will do their best to meet your requirements.
Portreath Bakery - Portreath and Lanner
These guys have a great reputation for a tasty Cornish pasty, and with so many on offer it's hard to choose, but just make sure you save room to try a sweet one. Apart from the traditional there's steak and stilton, chicken tikka, turkey and stuffing, pork and leek, cheese and bacon and apple and cinnamon, so why not try something new.
Prima Bakery
Last year they were voted 1st in the World Pasty Championships for their Peppered Steak, and 2nd for their Traditional Steak pasty.
So why wouldn't you pay them a visit next time you're on the A30!
--------------------------------------------------------------------------------------------------------------------------------------------------
ABOUT SALTY SONGS
The Salty Songs blog is here to share Kirsty and Phil's passion of the South West with everyone and to inspire not only tourists, but locals, to make the most of everything that is here on our doorstep. Cornwall has amazing beaches and hidden coves, along with pioneering festivals and local traditions, there's something for everyone. We love exploring, whether that's somewhere new, or a familiar haunt, armed with a camera and notepad ready to create a story to share our adventures.
They sell a range of prints and cards which will make for the perfect South West souvenirs and reminders of this magnificent coastline.
Salty Songs Website | @saltysongs