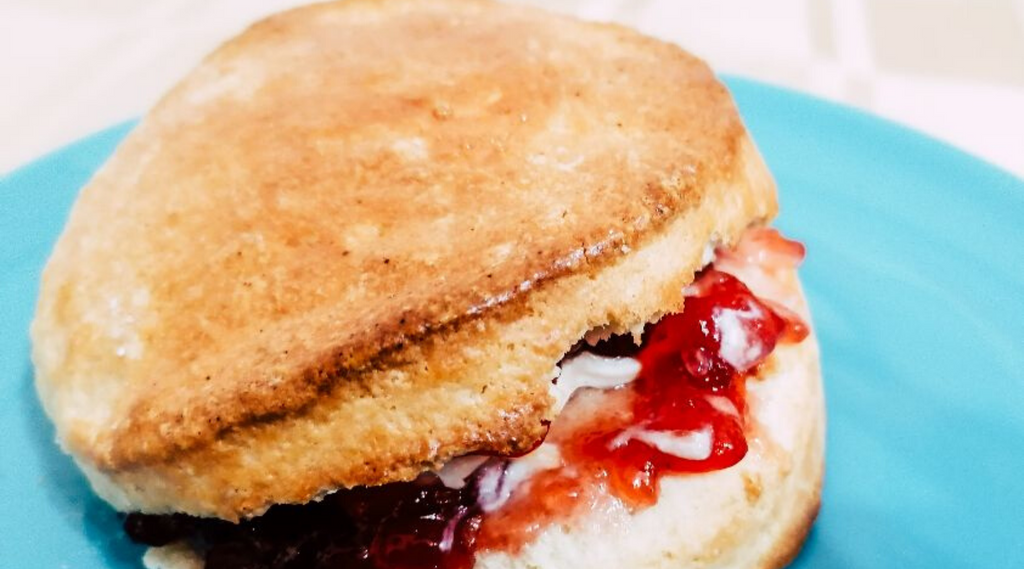 Guest Blog Post by Hannah from getlost.blog
Scones are the epitome of English afternoon tea. This traditional sweet treat is best served with strawberry jam and a dollop of clotted cream.
When we recently visited Warwick, we sampled the homemade scones at the Brethren's Kitchen at Lord Leycester Hospital. We enjoyed them so much, we were inspired to make our own. You can now enjoy a taste of Warwickshire at home with our English scone recipe.
English Scones
Scones are a staple component of any English afternoon tea. They are most commonly served with jam and clotted cream. When we visited The Brethren's Kitchen at Lord Leycester Hospital, they served us a generously sized, warm scone with butter, cream and strawberry jam on a slate serving platter.
As someone who doesn't often choose scones, I can say with confidence that this scone converted me. It was by far the best scone I've ever eaten! As a result, I wanted to try and recreate them at home.
Image: © Hannah/Get Lost
Creating the Scone Recipe
Although we're certain nothing could quite live up to Lord Leycester Hospital's scones, we've crafted a recipe that gets pretty close! It is designed to recreate the generous sized portion. From testing, we can confirm that they taste great warm when they are fresh from the oven, or you can store them and enjoy them later.
We opted for the traditional jam and cream topping for our scones. The topic of whether you put the jam or cream on first is a national debate. We'll let you decide for yourselves which order you prefer! Check out our recipe and give this tasty teatime treat a try. We hope you enjoy it!  
More about Warwick
Image: © Hannah/Get Lost 
If you have fallen in love with our Warwick-inspired English scones, why not plan a trip to experience the real deal? Check out our Warwick city guide for inspiration here.
Recipe
Preparation time: 20 minutes
Cook time: 15 minutes
Total time: 35 minutes
Ingredients
450g self-raising flour
1 tsp salt
110g butter
110g sugar
2 eggs
150ml milk
1 beaten egg for glazing
Strawberry jam (to serve)
Clotted cream (to serve)
Instructions
Preheat over to 200°C/425°F/Gas Mark 6.
Grease and flour two baking trays.
Sift the flour and salt into a bowl.
Use fingertips to rub in the butter until the mixture resembles breadcrumbs.
Stir in the sugar.
Make a well in the center of the mixture and drop in the eggs.
Gradually add the milk while stirring in the eggs.
Once the dough is formed, transfer to a floured surface and roll to 2.5cm thick.
Cut the dough into 10cm rounds.
Place the rounds on the prepared baking trays and brush the tops and sides with the beaten egg.
Bake for about 15 minutes until golden.
Transfer to a wire rack to cool.
We hope you enjoyed reading this recipe and thanks to Hannah for sharing! Read more from Hannah at www.getlost.blog.