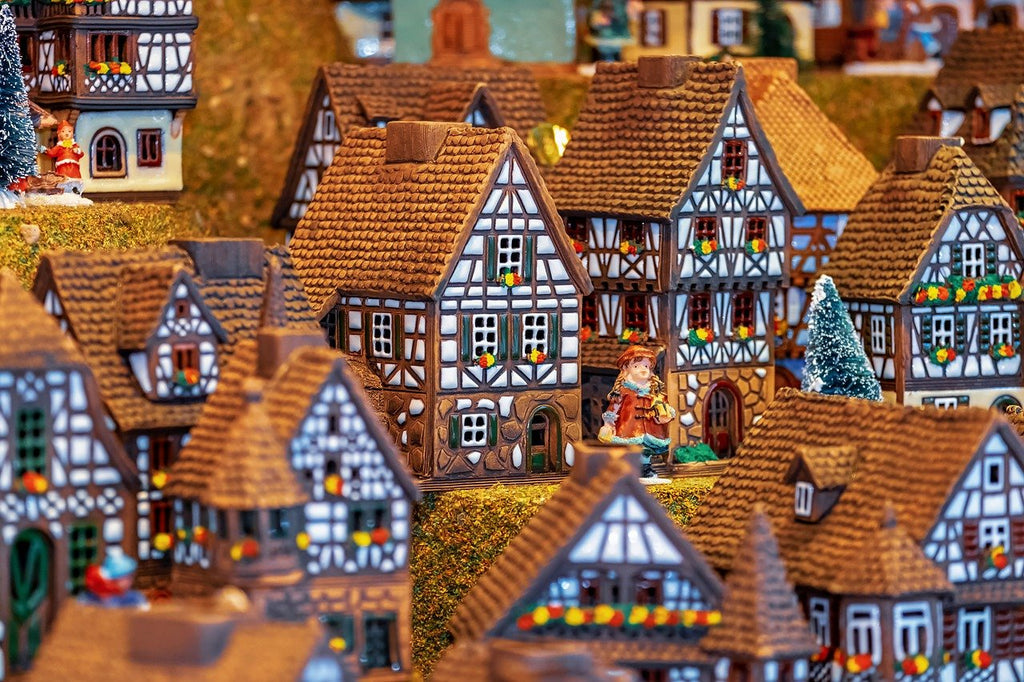 1. Winter Wonderland

Starting in the capital city, London's Winter Wonderland Christmas celebration is one of the United Kingdom's most famous Christmas spectacles. It takes place in the beloved Hyde Park, and is hard to categorise as Christmas Market because it's just so much more than that. It has everything from Christmas shopping and mulled wine to ferris wheels and dance halls.
2. Windsor Castle
The Queen does not spend the Christmas season in the gorgeous Windsor Castle. She spends it with the rest of the Royal Family at their Norfolk country estate, Sandringham House. But that doesn't mean Windsor isn't immaculately decorated...
3. Christmas Carols
Do you love a good sing-song? There are of course the annual carols at St Paul's Cathedral, which are some of the country's most famous. However, if you're looking for a harmonic event outside of the capital, then you might want to venture North to the spectacular Manchester Cathedral, which is known to leave sweet melodies echoing around its gothic architectural majesty.
4. Reindeer
The  reindeer in the UK are a sight to behold, and there are a number of natural areas to visit during the Winter months to ensure you see Santa's primary transportation in the flesh. The Cotswold Reindeer Herd are well-loved but also organised so that visiting them as a family is possible. If you wanted to see free-roaming reindeer, the only herd in the UK are found in the Cairngorm mountains in Scotland.
5. Christmas Markets
Winter Wonderland is wonderful and huge, but it's certainly not the only must-visit when it comes to Christmas markets around the country. There are loads of them of varying sizes, and some particularly special ones include those in Edinburgh, Bath, Bristol, Manchester, Cardiff, Leeds, Belfast, Birmingham, Glasgow... and that's just the big cities. Most small parishes and villages will have their own markets, sprinkled with local produce, hand-crafted gifts and the kind of aromas that make you instantly hungry.
6. Dinner
Depending on where you live in the world, or even just where you live in the UK, people have different names for their Christmas meal. Whatever you call it, book ahead. This time of year is busy wherever you go, but especially if you splash out and visit one of these famous UK restaurants offering prime Christmas fare:

Treadwells (London), L'Enclume (Cumbria), The Table (Edinburgh), The Gilbert Scott (London), Outlaw's New Road (Cornwall), Ynyshir (Powys), The Black Swan at Oldstead (Yorkshire) and many more...
7. Ice Skating
While it won't always snow across the UK, there is never a shortage of ice skating rinks around the country. In London alone there are a few to choose from, from the Somerset House rink to the Natural History Museum's rink. There is one at Edinburgh's Christmas market, at Cardiff's Christmas market, in York, another in the beautiful city of Cambridge... Use this mantra: Where there's a Christmas scene, there's a rink.
8. Afternoon Tea
Afternoon Tea in Britain is a cultural institution, whether you take it at The Savoy in London or at The Grand Cafe in Oxford. At Christmastime, it's even more exciting, because it gives the organisers room to let a festive theme run through the menu.

Head to Biscuiteers in Notting Hill and Battersea to enjoy the kind of afternoon tea that's almost too pretty to eat (but only almost...) We're talking orange and cranberry scone with Christmas jam, mini Christmas cake, eye-catching iced biscuits. Drooling yet?

If you prefer to keep things traditional, which is to say in a hotel, you're likely to find afternoon tea specials in hotels around the country. Taking it to the next level, though, would mean heading to The Ritz, where the glamour never stops.
9. The Nutcracker
Attending a ballet concert is an inspirational, beautiful experience at any time of year, but the Christmas season means the beloved Christmas ballet, The Nutcracker, returns and is performed throughout the country.
Whether put on by a local theatre company, The Scottish Ballet, Birmingham Royal Ballet, or by the English National Ballet at the London Coliseum, there are men and women all over gracefully floating across the stage to Tchaikovsky's genius.