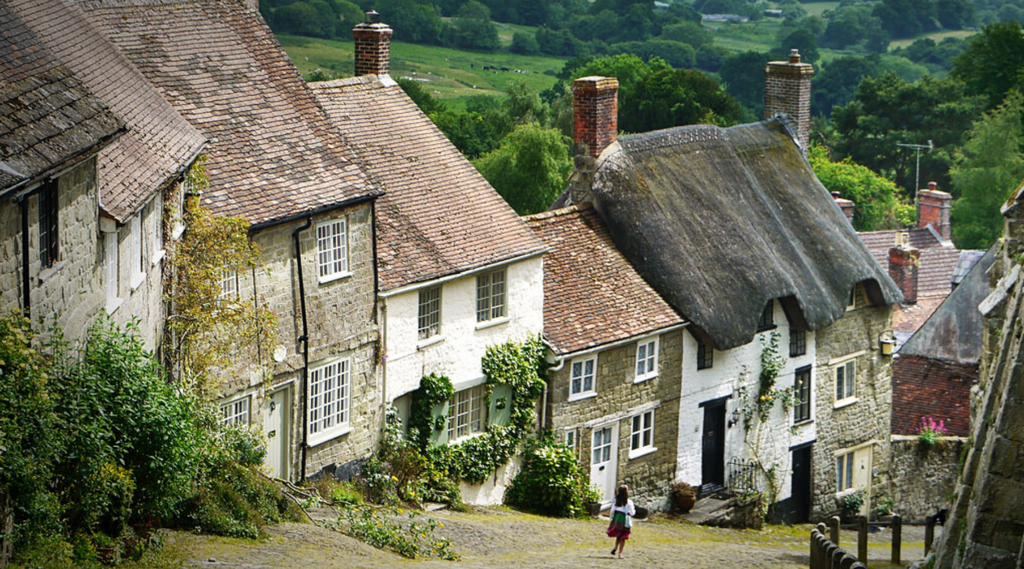 Guest Blog by Mike from bitaboutbritain.com
There's no shortage of things to do and see in Britain. If you were visiting for the first time, what would you recommend?
Get out of London
Image: © Mike/A Bit About Britain
Many visitors to Britain head straight for London.  It is one of the world's top tourist destinations, receiving about 30 million visitors each year, and a very special place to visit. But it is also very different to the rest of Britain, so think about hopping on a train or a bus and going somewhere else, even if only for a day.
London is surrounded by picturesque countryside and pretty villages in counties like Essex, Kent, Surrey, Berkshire, Buckinghamshire and Hertfordshire. Places you can get to from London in about an hour by train include: St Albans, Cambridge, Colchester, Canterbury, Sevenoaks, Brighton, Godalming, Winchester, Windsor and Oxford.
Drink a pint of ale in a traditional pub
According to CAMRA (The Campaign for Real Ale -one of the most successful consumer campaigns ever), "Real ale is a 'living' product, which is typically produced and stored in a cask container. In comparison to other types of beer that kill off the yeast and artificially inject the beer with CO2 prior to serving, real ale contains live yeast which continues to condition and ferments the beer until it is served." Ale needs to be handled carefully and should be served cool, but unlike lager you don't need to chill it to get rid of the taste (and you shouldn't).
There are a huge variety of ales in Britain – they even vary regionally: in the south, where I come from, ale can look quite flat; in the north of England, they like a foaming head (which can result in a short measure!).  Anyway, try a pint from a decent pub (and they vary too, of course). NB – a pub is not the same as a bar or a hotel!
Go to a castle
Image: © Mike/A Bit About Britain
There are hundreds of castles in Britain, all waiting for you.  Wales alone claims to have more castles per square mile than any other country in Europe.  How many castles there actually are depends whether we include barely visible lumps in the ground, Iron Age hillforts, stately homes that aren't castles anymore, Victorian forts – and so on. But to most people a castle is a defensive building with battlements, drawbridges, towers – and so on.  
And if you've never visited one, you should; who knows, it could become a hobby. Some castles, like Windsor Castle, are still lived in; some, like Warwick Castle, are showpiece tourist attractions; some, like Bodiam Castle, below, are romantic ruins; and some are so ruined you don't need to pay an entry fee to see them.
Visit a stately home
There are grand houses all over Britain, some still lived in, some not, some open to the public, some not.  They range from grand aristocratic piles (so to speak), through mansions built from fortunes made out of industry or slavery, to fairly modest large houses.
Some of the larger properties that are open to the public offer more than just the opportunity to tour a historic house and wander round a lovely garden.  Why you would want more than that is a mystery, but some have additional attractions such as special events and exhibitions, mazes, shops and wonderfully imaginative adventure playgrounds.  Most offer some kind of refreshment facility.
Eat fish 'n' chips
Fish and chips – a white fish, usually haddock or cod, deep-fried in batter, served with hot, fairly chunky, chips (pieces of fried potato), is said to be a British national dish. The English have often claimed it as their own, but in fact you'll find fish and chips served all over the United Kingdom.
Although you'll find fish 'n' chips on the menu in many pubs and restaurants, frankly, it's hard to beat the taste and texture of fish 'n' chips bought from a genuine fish 'n' chip shop, with plenty of vinegar and salt on the chips.  Some believe this culinary experience is synonymous with the seaside, to be eaten with slippery fingers whilst walking along a windswept promenade, simultaneously flapping at and head-butting vicious, dive-raiding, sea gulls.
Spend time at the seaside
Image: © Mike/A Bit About Britain
Before cheap package tours to Europe coincided with a generally better standard of living, many Brits used to holiday at the seaside.  Whatever the weather, the week or fortnight in Blackpool or Eastbourne was a family time to be treasured, perhaps taking in a show as a special treat.  Britain has a beautiful and varied coastline, with many picturesque fishing villages hunkered down beneath cliffs, hugging a pretty harbour.
Some of its traditional seaside towns, on the other hand, became neglected and a little tired and tatty.  However, there are plenty that are fighting back – so think about taking your bucket and spade to somewhere like Southwold (Suffolk), Shanklin (Isle of Wight), Tenby (Pembrokeshire), Bournemouth (Dorset) or St Ives (Cornwall). Other seaside towns are available.
Wander around a medieval church
Image: © Mike/A Bit About Britain
Britain's great cathedrals, like York Minster, Canterbury, Salisbury, Durham, Westminster Abbey, St Paul's – and so on – are magnificent and understandably popular.  But Britain also has thousands of medieval parish churches too – significantly more than 16,000 according to American writer Bill Bryson, who calculated that "If you tried to visit all the medieval churches in England – just England – at the rate of one a week, it would take you 308 years."
Most are beautiful and have wonderful features, from tremendous tombs to fabulous fonts and stunning stained glass; all represent their local communities' stories, as well as Britain's wider history.
Commune with ancestors at stone circle
Image: © Mike/A Bit About Britain
Although not unique to the British Isles, these islands possess an estimated 1,000 stone circles. They date from the Neolithic period, the new stone age, about 3,000 BC. While, in truth, no one can tell you exactly why stone circles were built, we can be absolutely sure that it not only took a lot of physical effort, but also considerable thought and organisation, to build them.
If you visit Stonehenge, it will be a World Heritage Site visitor experience and you will learn a lot; everyone should go. But, generally, you cannot get up close and personal and it can be, of course, crowded.  Many stone circles are in remote, atmospheric, places and can often be visited for nothing.  One of my favourites is Swinside, or Sunkenkirk, in Cumbria (shown above).
Experience a market
Markets large and small are still a feature of many towns and cities in Britain and vary from big covered daily markets like the ones in Oxford or Kirkgate in Leeds, which sell pretty much anything, to ubiquitous farmers' markets, traditional weekly markets with stalls in old market towns and car boot sales (of which one of the best-known is Ford Airfield Market in West Sussex).
London has some particularly good markets – Brick Lane, East Street, Borough (food), Columbia Road (flowers) and Portobello Road (which claims to be the world's largest antiques market) – to mention but a few. They can be brash, colourful, places where you can not only pick up a bargain, but also things you won't find in any chain store.
Visit an open garden event
Image: © Mike/A Bit About Britain
Open Gardens are community events in which participating local residents open their gardens to complete strangers. Hundreds of open garden events take place in Britain every year, mainly during the summer and mostly, though not exclusively, in rural villages. Because the gardens are attached to private homes they are often quite modest and the event may only involve a few gardens; but you will find some real gems and be able to chat to the people whose labours have created them.   
Open gardens can be a local event in its own right, organised by an enthusiastic gardening group, or part of a larger village show of some kind. It's a convivial way of spending an hour or three and can give a completely different perspective on a community.
So, there you are, ten suggestions for a visit to Britain. Why ten? – it seems to be a popular number with some bloggers and travel writers. Perhaps we'll feature 'Another ten things you really should do in Britain' in the future.  What would you include? Morris dancing? Attend a Highland Games? Climb Yorkshire's Three Peaks? Watch a cricket match? The Edinburgh Fringe?

Thank you to Mike from 'A Bit About Britain' for writing this piece. On his blog Mike writes about everything British - from Kings and Queens to places visit. Read more at www.bitaboutbritain.com.