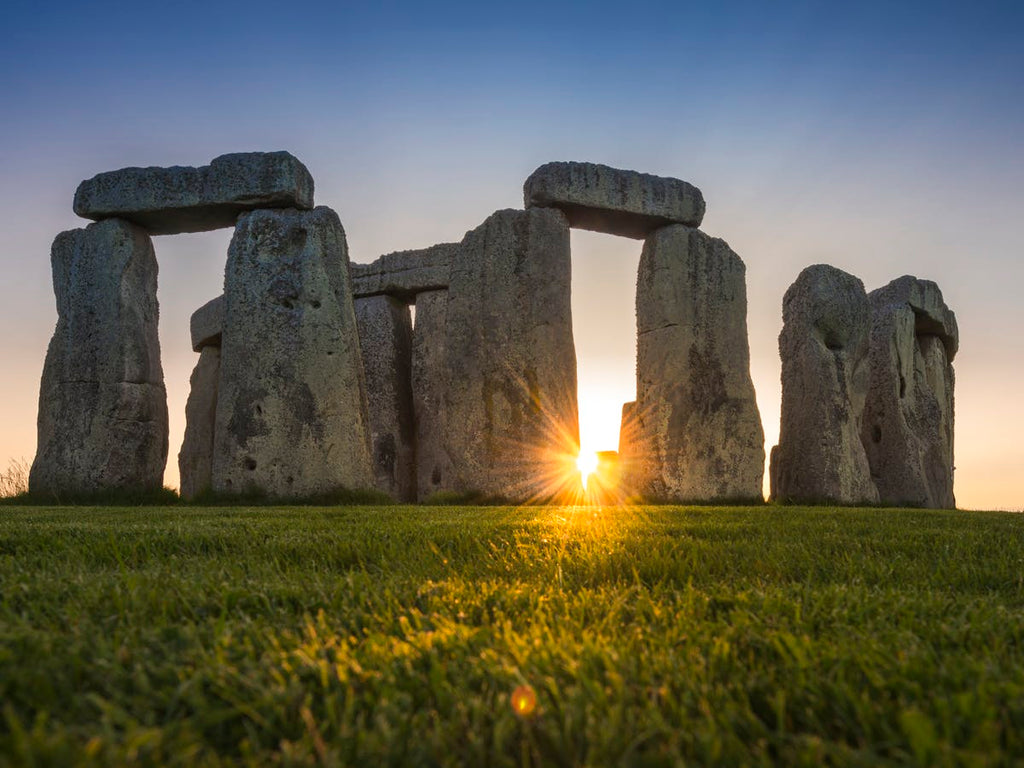 A prehistoric monument and one of the wonders of the world


Stonehenge is one of the wonders of the world. This prehistoric monument has wowed many and continues to intrigue all its visitors. It is definitely an engineering masterpiece, given that it was built with simple tools and technologies during the Neolith times. It is another of those structures in the world that make visitors and scientists wonder about the theories behind its construction. Why it was constructed and by whom, to the extent that it could have been an alien creation or the much popularised legend of King Arthur by historian, Geoffrey of Monmouth. Anyways, here's Stonehenge for you in a nutshell, both mystical or magical – you decide which you prefer.
A sophisticated architecture
The monument known as Stonehenge, was erected with precise interlocking joints, unseen at any other prehistoric monument. According to its history, it was built in several stages, with the first monument being constructed around 5,000 years ago.
UNESCO World Heritage Site
This unique prehistoric masterpiece sits on a rich archaeological landscape and the area, Avebury and Stonehenge form a designated UNESCO World Heritage Site. Stonehenge is the most architecturally sophisticated and unique places to visit.
Where is it?
Stonehenge is located on Salisbury Plain, about 8 miles (13 km) north of Salisbury, Wiltshire, England.
The Stone Circle
The Stone Circle at Stonehenge is an iconic symbol of Britain with each stone standing at 13 feet high, 7 feet wide and weighing around 25 tons. It is believed to have been constructed between 3000 BC and 2000 BC. This sophisticated architecture is the only surviving linteled stone circle in the world.

I was instantly wowed at the gigantic stones and intrigued at how cleverly it was "constructed". I did feel a little "tiny" in the midst of all these and the vastness of the area. There is certainly a lot to discover here.

As mentioned earlier, this iconic, sophisticated architecture throws more questions than answers as to the "Why's" and "Who" – here's what I found out but be rest assured that there are a lot more theories and opinions out there.
The Theories
Stonehenge Decoded
According to Hawkins, the cluster of stones were constructed in phases between 3100 BC through 1600 BC and its purpose was to relate to an ancient astronomical observatory calendar, to predict movements of the sun and stars. His hypothesis identified 165 separate points on the construction, and he links them to the two solstices, equinoxes, lunar and solar eclipses. The stones are aligned in such a way that at dawn on the summer solstice the sun glides from behind the Heel Stone to above the stones and shine onto the centre of the circle – the sun and stones all aligning perfectly.

Similarly, at the winter solstice on December 21, one can experience much the same at sunset. It would seem that Stonehenge was created to showcase the summer solstice.

However, Hawkins' theory had been criticised by historians for it gave too much credit to ancient builders who did not have the sophistication or the tools necessary to predict astrological events. Despite its criticisms, Hawkins theory does lend more legitimacy than the 12th century legend associated with King Arthur by Geoffrey of Monmouth in his History of Kings of Britain.

History of Kings of Britain
According to Geoffrey, the massacre called the Night of the Long Knives in 449 A.D. occurred at a monastery on the Salisbury Plain. To honour the dead soldiers, the then King, Ambrosius Aurelianus consulted the wizard, Merlin
to help him select an appropriate monument.

The wizard suggested that the King's Ring from Mount Killarus in Ireland be dismantled and brought to England. An expedition of soldiers were sent to bring the stones to Stonehenge where Merlin reconstructs with his magical powers, a
monument on the Salisbury Plain honouring the dead in the monastery cemetery.
A modern twist
A modern twist to this tale seems that it was aliens rather than Merlin who constructed the ingenious architecture. Some of these rocks weigh 50 tons and cannot be explained how ordinary humans could have moved such masses., hence aliens. In addition, Alfred Watkin in the 1920s suggested his theory of "ley lines" in his book "The Old Straight Track", published in 1925. He suggested that Stonehenge connected with other sites which once served as landmarks or ancient sites in a given alignment between, and across the dense island but since vanished. Other theories surrounding this ancient monument relate to it being a healing ground because archaeologists have discovered skeletons with crude wounds, an indication of rudimentary surgery.
Recent Discoveries
In recent years, archaeologists have discovered skeletal remains at Stonehenge which dated to a 500-year period beginning in 3000 B.C.. The discovery suggests that the remains belong to a select group of elite ancient people, hence providing the most solid evidence yet that the site was used as a burial ground. However, this does not preclude Stonehenge as an astrological calendar or as a religious site.
The mystery continues…
So, a conclusive answer to the "Who" and "How" are yet to be found and the mystery of Stonehenge continues to puzzle archaeologists, historians and ordinary people alike. One thing for sure, that it will continue to attract thousands especially on another equinox when the sun rises and sets, for one to experience the magical or mystical vibes in this mysterious part of Salisbury, Wiltshire.
Popularity of Stonehenge
Stonehenge is one of the popular destinations in UK for tourists with almost 1.5 million visitors a year. It is also a popular destination for the thousands who are drawn here during the summer and winter solstices, for whom it symbolises a sacred place. It invokes a great sense of awe and humility. Stonehenge is especially significant for members of the Druid and Pagan community, who perform rituals and celebrations at the summer and winter solstices.
Summer and Winter Solstices
Solstices have been celebrated here for centuries. People gather here to welcome the sunrise on the longest day of the year with cheering and revelling. On the summer solstice, the sun rises behind the Heel Stone, the ancient entrance to the stone circle, and sunlight is channelled into the centre of the monument. It is also a day when the English Heritage opens-up the stones to the public. Whatever the true story of this monument, anyone and everyone can enjoy the spectacular sunrise behind these stones at the solstices.
Mystical or magical?
When I visited Stonehenge in late summer, it was after a rain and before a storm. I witnessed these mystic clouds, which appeared above one of the Stone Circle, giving it a sense of solitude and magic. I thought the clouds were rather unusual.
Just so you know, there are a few recorded experiences where one was overcome with feelings of sadness and loss, while some have felt coldness and isolation. Though none of these can be explained and I did not experience any of these feelings, I was totally amazed at the uniqueness of the structure. I would highly recommend that you visit this sophisticated architecture – a bucket list experience for sure.
There is an Asian proverb that says, "Better to see something once, then to hear about it a thousand times." So, if you haven't been here, get it onto your itinerary and experience this iconic ancient achievement.
More info:
Summer: 0900 – 2000 | Winter: 0930 – 1700 | Last entry is 2 hours before closing. Booking in advance guarantees entrance and an advanced booking discount.