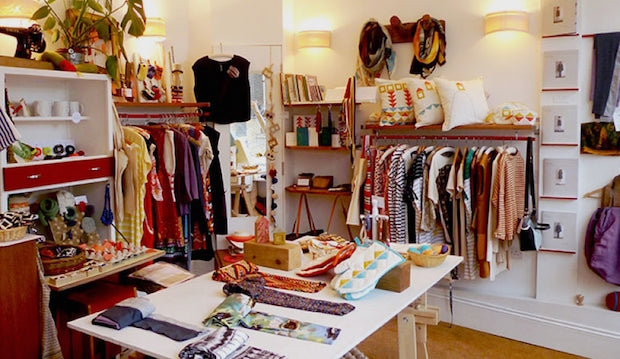 London fashion boutiques are a staple part of the small business ecosystem to support the retail market.The past couple of years has seen the UK retail market become beige. I personally don't like or do beige. Every store you visit seems to sell the same brands just in varying degrees of beige. Many of these stores are playing it safe in the current economic climate, leaving little or no room for smaller and emerging brands to get listed.
 The Rising London Boutique Scene Looking beyond the same old stores there are so many lovely and great independent and multi-brand stores across the UK. Small and large businesses all here to support young and emerging brands, to educate and offer customers a great experience and something different.

Whether you are researching new fashion stores that fit your brand profile or looking for a fresh place to buy great brands that are unique and special to you, look no further. Onwards and Up here to help!

I thought I would write this blog, highlighting some of the multi-brand stores in London, making their way, showcasing their own labels, but also supporting other brands in the process.Here are my top five boutiques in London.

I hope you like them too! x
Sweet Pea Jewellery – London Boutique
Tucked away in the heart of Primrose Hill, Sweet Pea Jewellery designer Siobhan O'Neill has been making jewellery since the early 1990s. Her special strength is her unique sense of colour and creating designs which are delicate and classic with a twist. She travels the world searching for the most precious and rare stones.

Sweet Pea designs are all handmade in London boutique from 18ct gold and are perfect for layering. Each collection being individual yet working perfectly with the next.As well as showcasing Sweet Pea's jewellery brand in her boutique, Siobhan has created a small multi-brand boutique championing established and up and coming designer-makers.

Alongside her own branded 18ct collections of beautiful jewellery, Siobhan compliments this with many other makers such as Polly Wales, Ruth Tomlinson, Alex Monroe, Jo Hayes Ward, Celine Daoust to name a few. Creating a destination multi-brand store in Primrose Hill, for your semi and precious jewellery, unique wedding and engagement rings.

Her collections have sold and continue to sell in some of the world's best stores including, Liberty, Harvey Nichols, Browns, Fenwick, ABC New York and Joyce Boutique Hong Kong.
77 Gloucester Avenue, Primrose Hill, London NW1 8LD | www.sweetpeajewellery.com
Buba London, Fashion Store
Buba, means baby, has been established as a brand for over 10 years. Set up by Euan McDonald and Lesley Silwood who have a shared love of the exotic cultural colours and shapes of Goa and the florescent glamour of Ibiza.
Creating beautiful handmade bags, cuffs, necklaces and earrings. Designed by Euan and carefully crafted by Delhi artisans. They use the finest leather and embellished with geometric embroidered patterns and semiprecious stones. "Every piece is totally unique and no two patterns are the same," says Euan.

Their stunning accessories collection, which is sold around the world in prestigious outlets as Sandy Lane, Barbados, are now on sale at their flagship boho London boutique in Hampton Court.

The boutique is a lovely go-to place to find beautiful clothes that you will never see on the high street. Supporting a collective of contemporary brands in footwear and clothing to compliment the Buba London store offering.

"Here you get a friendly personal styling service and a designer look – but without the designer price tag".

Lesley Buba London Now branching out, Buba London has recently expanded and now features a unique range of fabulous homewares, children's clothes, gifts, cards and beautiful handmade wrapping paper. If you are looking for something truly out of the ordinary, then make Buba London your first port of call, in South-West London.
48 Bridge Road, Molesey, East Molesey KT8 9HA | www.bubalondon.com
Kate Sheridan, Independent Store
Located in one of the coolest up and coming parts of town, Kate Sheridan has made her mark with her East London boutique. A permanent member of the Broadway market scene four years ago branched out into her small multi-brand store on Lower Clapton Road. Sitting alongside a selection of independent stores and cafés, it a great place to explore for quirky-cool brands.

Kate Sheridan, an accessory and womenswear label, designing practical, minimal and beautifully crafted goods from her East London studio & store. Her brand focuses on manufacturing in the UK and sourcing quality English and European materials. You can find Kate and her small team producing a selection of the small accessories and bags in-house, using traditional print and craft methods.

On opening her doors in 2014, Kate's London boutique has offered a full range of products along with carefully selected homewares, beauty products and accessories from local makers, and other small companies they love. Producing bi-annual collections of accessories and womenswear, past collaborations also include lovely companies like Will Broome, Shopgirl, Dunlop, Urban Outfitters, The National Gallery, Topshop, and the V&A Museum.
7112A Lower Clapton Road, London E5 0QR | www.katesheridan.com
Paper Mache Tiger, London Showroom
BIs it a London boutique? Is it a café? Is it a showroom? Guess what, it is all three rolled into one. Kyle Robinson the Director and brains behind Paper Mache Tiger showroom, the sales and marketing agency for emerging and established fashion brands, set up in 2008.

In 2016 the company branched out to open their first multi-brand retail store in London, with their offices discreetly tucked away to continue their day to day work and buyer appointments. Situated on the quite Cross Street in Islington, Paper Mache Tiger stands out from the mainstream boutiques on offer on Upper Street.

Creating an innovative retail experience and curating some of the newest emerging fashion and lifestyle designers from around the world, alongside Kyle Robinson's own two womenswear brands, Être Cécile (now with their own retail shop on Cross Street) and Herculie.

A loft-style fashion showroom, curating collections of contemporary fashion from the likes of Allude and Beaufille, lifestyle and home interiors. All presented in a laid-back atmosphere to make you feel at home.

The size of your purse doesn't matter in this store, as there is something for everyone. If you are looking for a quirky fun present, there is an array of choice here. Pitch up, grab a coffee and browse until your heart's content.
Ground Floor, 26 Cross Street, London, N1 2BG | www.papermachetiger.com
Aria One Six Eight London Fashion Boutique
If you have not spent all your money on Upper Street in the likes of Ottolenghi (I can't resist their cakes!), then make a beeline for the new addition on the other side of the road, Aria One Six Eight.

The new multi-brand store, an offshoot from the original furniturefocused Aria, round the corner in Barnsbury Hall. If you are into your interior the store is definitely worth checking out.

Aria boutique is filled wall to wall with contemporary men's and women's accessories with a sprinkling of clothing.

Presenting innovative designs from brands such as Want Les Essential to more traditional classic like Barbour to household favourites such as Alex Monroe to the emerging talent of Sarah Straussberg.

Spoilt for choice, gifts galore, thankfully the helpful members of staff are on hand to give the low down on brands and products.
168 Upper Street, London N1 1US | www.ariashop.co.uk/about-us
-------------------------------------------------------------------------------------------------------------------------------------------------------------
This wonderful round-up of London boutiques is written by a human encyclopaedia for business, AKA Toyin Laketu from Onwards + Up
Read more at: Instagram - @on_wardsandup Website - www.onwardsandup.co.uk Twitter - @on_wardsandup