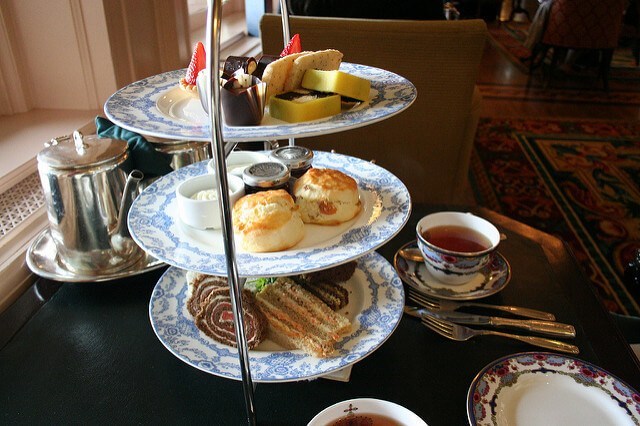 Here's a definitive guide on hosting the perfect quintessentially British afternoon tea party..
Guest post by British Corner Shop from www.britishcornershop.co.uk
Enjoying a perfect afternoon tea party has been a fine British tradition since the early 19th century when Anna, the seventh Duchess of Bedford, first introduced it after complaining of 'having that sinking feeling' during the late afternoon. At the time, it was customary to eat only two main meals in the day: breakfast and a dinner at around 8 o'clock in the evening. The solution? Afternoon tea of course!
Since then, afternoon tea has become a fashionable pursuit and, today, nothing says 'British' more than throwing an afternoon tea party. Of course it is possible to visit a swanky hotel and enjoy your afternoon tea perched in a gilded armchair, but here at British Corner Shop, we think it's much more fun to host your own.
What you will need
The centrepiece of any afternoon tea party is, of course, the three tiered cake stand which will display your beautifully prepared sandwiches, scones and cakes. If you don't own one, take a trip to the charity shops, as you may be able to find a great bargain, or you could simply use your best china instead.

Make sure your table is laid out beautifully, with a classic white linen or lace table cloth, and sufficient cutlery, cake slices, small plates, water carafe and glasses, sugar bowl, jugs of milk and a plate for lemon slices. Although matching china is pretty, don't worry if the patterns on your cups and saucers are mismatched. Keep the tea cups and saucers, along with a tea strainer, at the end of the table ready for serving.

If you're feeling creative, decorate the table with folded napkins, name cards for your guests, and favours. You could even decorate the room with bunting! However you decide to decorate, make sure there are plenty of flowers and plants around the room.
The perfect cup of tea
The main attraction! You're going to want to offer a wide variety of tea to cater to all your guests. Much like wine, tea can be paired with food to bring out its flavours.

For example, Taylors Afternoon Darjeeling tea, with its champagne taste, is great with sweet cakes, whereas Darvilles of Windsor Royalty Assam or Tetley Earl Grey tea complement the flavours of savoury sandwiches and cakes.

Other flavours to consider serving are peppermint, camomile, fruit, herbal, and English Breakfast.

We recommend having a tea pot of boiling water with an assortment of tea bags, along with a full pot of your favourite tea brewed. If you're brewing tea in a pot, then use loose leaf for best results.

Heat the tea pot with boiling water first, and then pour it out, leaving an empty hot tea pot. Add your chosen tea leaves to the pot, along with freshly boiled water up to an inch. Allow this to infuse for up to 5 minutes (longer if you prefer stronger tea), then fill up the pot with boiling water. Have an extra pot of hot water on the table just in case some of your guests prefer weak tea.

You may also want to provide alternative drinks, such as iced tea, champagne or bucks fizz, fruit juice, coffee or hot chocolate for those guests who don't drink tea.
Delicious food
Although there aren't any specific rules when it comes to the food, traditionally a tea party comprises of sandwiches scones and cakes. Serve sandwiches with a variety of fillings, but always with the crusts off (Duchess Anne was quite insistent about this!). Some of our favourites include cucumber sandwiches, smoked salmon and Philadelphia cream cheese, coronation chicken, ham and mustard, and egg mayonnaise.
When it comes to scones, serve a mixture of plain and fruit scones, along with plenty of jam and Cottage Delight Clotted Cream. While you can't go wrong with traditional Tiptree Strawberry Conserve or Raspberry Jam, you may like to offer something a little different, such as damson, plum or Tiptree Green Gooseberry conserve.
Individual portions are key when it comes to cakes, biscuits or pastries. A proper tea party is all about the dinky cakes. If you prefer, you can bake a whole cake and arrange small slices on your cake stand. Small cupcakes, a sliced tray bake, biscuits or even petite fours all make delicious options.
Our personal favourites are from the vast range of Mr Kipling cakes. From Cherry Bakewell Tarts to French Fancies, these pre-made cakes can turn a tea break into a tea party!
And finally...
Whatever you serve, make sure your guests are always topped up with a fresh cuppa, and have access to jugs of water. Munching your way through all those delicious sweet treats can be thirsty work, and you can make the water fancy by putting orange, lemon or cucumber slices in the jug.

As cakes are the last layer of the cake stand to be enjoyed, you may find that your guests have filled up on sandwiches and scones. If this is the case, and there happens to be any cakes left over (though we would still be very surprised), you can always wrap them up carefully for your guests to take home in a delicious goody bag. But lets face it, we should always save room for dessert!
Discover more British recipes: British Corner Shop