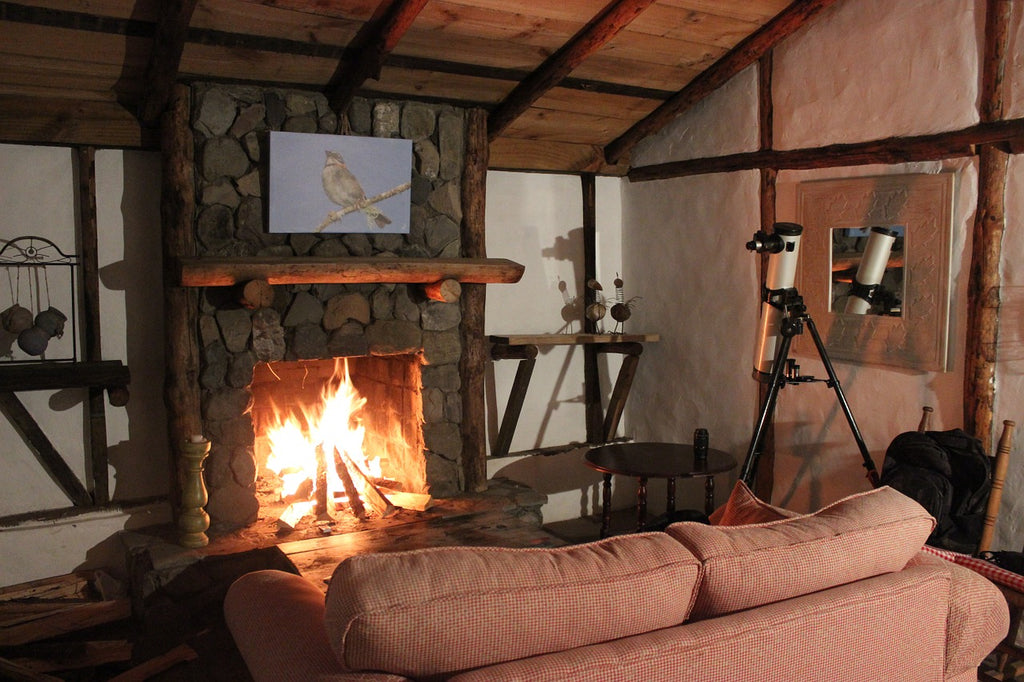 Argue all you want, but there definitely is a difference between a house and a home. A house is the building that you live in. But a home is that warm, inviting space in which you share experiences with friends, family and loved ones, and make memories. But how can you make the house in which you are living less bleak and more inviting? Read on to find out.
The Actual Temperature
When we talk about a home being warm, we often mean two things. That the actual temperature is comfortable whether it be warm in the winter or cool in the summer, and the perceived feel of the space in term of comfort. Afterall, however cosy you home looks if it's a nice box in winter, and a hot house in summer it will never be that inviting.

Happily, dealing with the physical temperature of your home is actually one of the easier things to sort out.

It maybe that you choose to install better radiators in each room. Or that you put sunshielding film on the windows and conservatory roof, so certain areas don't heat up too much. You may even want to invest in some additional wall insulation. This traps the air,  and helps you to keep a constant temperature, warm or cool, within the house.
The Atmosphere
Of course, you will need to deal with the perceived feel of the home as well,  and that can be a little more tricky. Remember to consider the colours that you are using in the home. Muted earthy colours can often give off the sense of being a lot more warm and comfortable. Even if you choose to have a more modern interior. White sand bold colours can provide interest. But don't always make for the most relaxed feel, so use them sparingly, if at all.
The Light
Obviously light can really have an effect on the feel of a home as well.

While it is often desirable to have a lot of natural light in the summer months, it is also necessary to be able to 'batten down the hatches' and block out the light, the cold, and the world out in the winter time. In fact, there is nothing quite as cosy as drawing thick curtains across the window and snuggling up with a hot cup cocoa, when it start to get dark outside. Of course, to do this properly, you will need some atmospheric light inside you home. So don't just rely on the main ceiling light, but also place lamps around as well. As then you will have a lower, cosier level of light when you want it too.
Furnishing
Getting the right type of furnishing is essential to ensuring your home don't seem bleak and cold. It's not just a matter of style either, but also of color and the fabric that is used. For example, you may go for an old fashioned farm house style table,  which you think will add to the charm of the room. But if it's it the wrong color like black or white,  it can seem too stark and ruin the ambiance entirely. Where as a better choice maybe a natural wood finish.
Then consider things like the couch and living room chairs. The cosiest home is likely to be one that has a bit of character. Perhaps including items in a vintage or retro design like a Louis XV chair or a Chesterfield sofa. Darker fabrics like burgundy, green and brown work the best for a home that you want to be as inviting as possible. Fabrics should be hard wearing as well, but also soft, comfortable and luxurious. Such as velvet and leather.
Finishing touches
Lastly, something else that really elevates a house to being a true home is the finishing touches. This is a really where folks with an eye for detail can shine because it's often the small things in a room that really set it off to its best advantage. For a cosy feel, ensure you have plenty of throws, blankets, and cushions which make it look very inviting to sit down and stay a while. Also, use senses other than sight and touch for these smaller detail and help them have a greater impact.
For example, a  cleverly chosen candle scent can transform a space, bringing up all sorts of positive and homely associations. As can the sound and visuals of an open fire, even if it isn't a real one!
About the author:
Becky started The Lifestyle Blogger UK back in the summer of 2015 as a creative outlet but within just 2 months, she had hundreds of people reading her articles and was eventually able to pursue blogging as a full time career. She took the plunge, quit her job and started to work for herself.
Follow Becky:
The Lifestyle Blogger UK
|
Twitter
|
Facebook