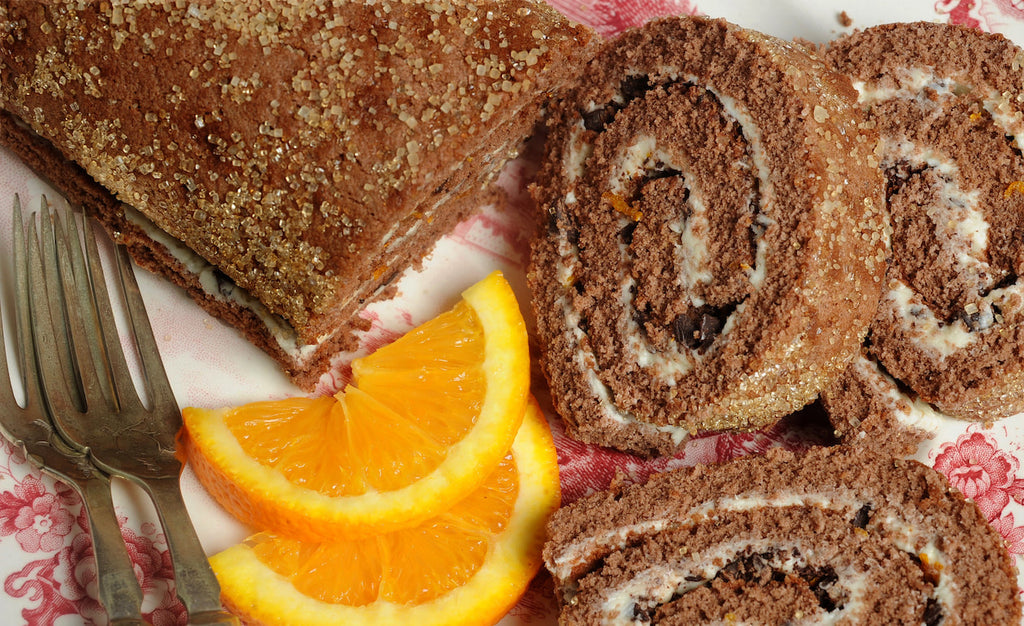 Hello, darlings!
Miss Windsor here from London, England – How do you do?
Now you may already know, that our beloved sovereign – HM Queen Elizabeth II - is a "chocoholic" of the incredibly ardent and incurable kind. So, with this in mind, and with a twist of zingy orange, I recreated the frightfully fabulous Chocolate Cream Roll to celebrate Her Majesty's official birthday of Trooping the Colour, which took place on Saturday the 13th June 2020. Miss Windsor served her queenly recreation to an assemblage of guests at her terribly splendacious afternoon tea party, in other words, a jolly good "royal knees-up"!
Now for those who have a keen interest in food history, I'm sure you'll be pleased to know that I discovered this recipe in my 1935 edition of the Radiation Cookery book – a cherished gift from my gentleman friend, Sir Brian of Church Street Market, London.
Darlings, in the spirit of Her Majesty's official birthday, Miss Windsor's Chocolate Orange Cream Roll is most certainly the perfect sweet treat to "tickle one's fancy", so to speak! So, one must indulge oneself with slice or two of this incredibly light, temptingly tangy, devilishly moist, rich, and chocolatey, sumptuous delight! Slathered with a luxurious layer of orange buttercream.
​Oh, and this decadent choco-orange beauty is best enjoyed with a cup or two of your favourite Rosie Lee - now, for those who aren't privy to a verse or two of "cockney rhyming slang", Rosie Lee is indeed a cup of tea! Of course, tea is the most appropriate liquid refreshment that must be quaffed from a bone china cup and saucer, whilst one enjoys the royal delights of an afternoon tea pageantry of goodies.  
​However, if you fancy something a little bit stronger, Miss Windsor permits you to a sip or two of the Queen's favourite tipple of Gin and Dubonnet – to be supped from a crystal glass tumbler, of course!
Darlings, now before you toddle off to your kitchen, I'm proud to announce that this exquisite sweet treat fit for a Queen has been awarded Miss Windsor's Royal Stamp of Approval – bravo!   
GOD SAVE THE QUEEN.
Cheerio for now,

Miss Windsor x (signature)
Ingredients
Chocolate Orange Sponge
2 eggs
120g (just under 1/2 cup) caster sugar
80g (3/4 cup) plain flour
1 level tablespoon of cocoa powder
1 teaspoon of orange extract
1/4 level teaspoon of baking powder
2 tablespoons of fresh orange juice
a sprinkling of brown sugar

Orange Butter Cream
125g (just over 1/2 cup) unsalted butter
300g (3 cups) finely sifted icing sugar
1 teaspoon orange extract or orange liqueur (add more to
taste!)
finely grated orange zest
roughly chopped dark chocolate chips

Garnish
Equipage
electric hand-whisk / food processor
shallow baking tin – 9 x 13 inches or 23 x 33 cm (approx.)
Method
Squeaky clean hands at the ready!
Pre-heat your oven to 220 *C / 200 Fan / 425 *F / gas mark 7.
Using a large mixing bowl whisk the eggs and caster sugar until pale and creamy.
With a steady hand stir in the sifted flour, chocolate powder, and baking powder, then add theorange extract and fresh orange juice. Mix gently with a wooden spoon.
Prepare the baking tin with greaseproof paper.
Pour in the batter and smooth over with a palette knife, then tip the baking tray from side toside to even out the mixture. Bake for exactly 6 minutes.
Bake for exactly 6 minutes.
Darlings, now with great care dampen a cloth with boiling water (I recommend an old teatowel) then place a piece of greaseproof paper over the top and sprinkle with brown sugar.
Turn out your creation onto the sugared paper and remove the cooked paper from the sponge,then roll it up!
Allow to completely cool.
Once cooled, it's time to whip-up the Orange Butter Cream filling! So, using your modern dayappliance or a wooden spoon, simply beat together the butter, icing sugar, and orange extract or a drop of orange liqueur until pale in colour and creamy. Add a drop of milk if it's a little stiff.
Darlings, now this step requires the aid of light hands! Carefully unroll the sponge and spreadwith the filling, then scatter with orange zest and a handful of roughly chopped chocolate chips.Gently roll back up and leave to stand for a few hours.
When ready to serve cut into equal portions and present on a pretty plate. Garnish with a sliceof fresh orange – voila!
Serve to your delightful guests with a cup of Rosie Lee!
--------------------------------------------------------------------------------------------------------------------------------------------------
FANCY MORE FROM MISS WINDSOR, DARLING?
You'll find her on Facebook/Instagram/Twitter:
@misswindsoruk