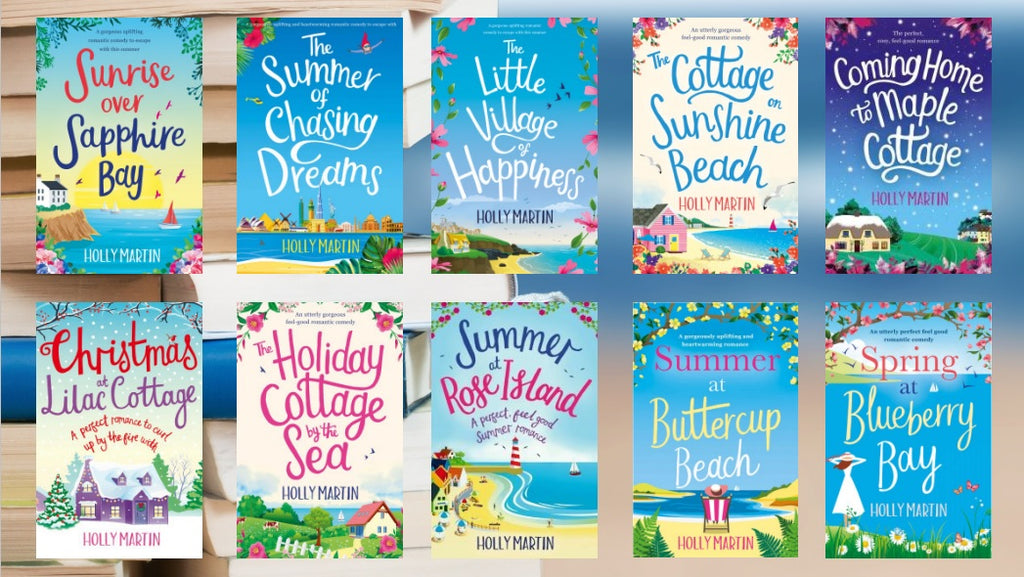 Author of over 20 books, and winner of the Carina Valentine's competition at the Festival of Romance  2013 with her novel. The Guestbook
Your novels are often set on beautiful beaches in quaint rural villages. Where do you draw inspiration for these places from?
They are inspired by lots of different villages and towns in Devon and Cornwall and some parts of Wales too. Polperro, Marazion, Mousehole, Sidmouth, Brixham, Hope Cove are all beautiful little villages and towns with winding streets and cute shops and a great village community feel
You write overlooking the sea - do you think there's a relationship between your writing and the sea?
I love living near the sea and having that sea view outside my office window. The sea is so inspiring and beautiful, even on stormy cold days. There is definitely a literal relationship in that it inspires my descriptions of the sea in my stories, but the sea also helps me to put me in the right mood. Its so changeable, the mist, the sunrises and sunsets, the calm days and the days with huge waves, it helps set the tone for my writing too.
Have you visited the South West Cornwall, Devon, etc - and if so, what is your favorite part about it?
I live in Brixham, Devon so I experience it every day. I've visited lots of Devon and Cornwall over the years, there are so many beautiful places. St Michael's Mount near Marazion, Cornwall is a tiny island with a handful of shops and houses and can only be accessed on foot at low tide because the sea covers the footbridge at hightide, completely cutting off the island, and that, in part, inspired my new Jewel Island series, the first of which is Sunrise over Sapphire Bay.

One of my favourite places is Polperro. We went there before we moved to Devon and that was when we were first introduced to Cornish and Devon time. If a shop was due to open at 9, the owner might appear and start opening up
around 10 and some days shops, pubs and restaurants wouldn't open at all.

Nothing happens fast down here, it's a very different laidback way of life.
You've written an astonishing number of novels - describe for us your writing process from the moment the idea comes to you (and how), until it's in the hands of readers?
Authors generally fall into two categories, plotters, those that plan every single detail of the story before they start writing and pantsters who fly by the seat of their pants and make it up as they go along and I'm very much a pantster.

I have a vague wispy idea of what the story is going to be about and it only starts to take shape as I write it and get to know the characters. I always try to write in order but I inevitably have to go back and add more scenes to the ones I've already written. I will do a first draft and then read it through adding more scenes and expanding what is already there and then it goes off to my structural editor who will come back with notes about what areas of the story needs tweaking.
Once I've made those changes and my editor is happy, it goes off to my copy editor to check for any grammar issues or typos. She might spot a flaw for example where i put that something happened the day before when actually its two days before. Once I've made those corrections, me and my mum give it a final read through before it goes off to a proofreader. After that, it goes out in the world and I just cross my fingers and toes that the readers will like it.
Have you always been an avid reader? If so, which were the formative books that inspired you to write?
I've always loved reading. When I was a child I loved reading The Animals of Farthing Wood by Colin Dann and that inspired me to write my own stories about animals having adventures. When I was a teen I used to read my mum's Danielle Steel books and I loved those glamorous epic love stories. Jill Mansell books are another author I absolutely devoured, they were feel good, happy stories that had me glued to the pages and I knew I wanted to write stories like that.

-------------------------------------------------------------------------------------------------------------------------------------------------------------
Holly Martin lives in a little white cottage overlooking the sea. Before writing her many books, she worked as a hotel receptionist followed by two years working in a bank... Then the fun began. She quit her job and returned to university to train to be a teacher. She taught for four years and then traded in the teacher's hat and started writing full time.

She has now been writing for six years, been shortlisted for the New Talent Award at the Festival of Romance 2012, won the Sunlounger competition with her short story and was published in the Sunlounger anthology in 2013, won the Carina Valentine's competition at the Festival of Romance 2013 with her novel The Guestbook, and was shortlisted for Best Romantic Read, Best eBook and Innovation in Romantic Fiction at the Festival of Romance 2014.